Fangirl Reaction to D23 Japan
Really, this could just be a series of emojis and I would be finished with this week's post. Seriously.
Let's start with Pixar Pier – it sounds so cute and now I want to go to California!
Also, I'm jealous that Hong Kong gets an Ant-Man inspired attraction.
Next, the concept art for Mickey & Minnie's Runaway Railroad is so adorable! Classic look and so sweet.
Moving on – don't even get me started on the fact that Paris gets the Marvel Summer of Super Heroes this June. Because, to quote the teens, I can't even. Because Paris also gets the Marvel themed Rock 'n' Roller Coaster. I mean, come on!
I seriously am so excited to learn more about the planned Guardians of the Galaxy "ride system" at Epcot. Ride system? What is that?! It's planned to be one of the longest enclosed roller coasters in the world! The WORLD people! That is something to look forward to!
But let's get real here. The thing I am truly the most excited about is the update on Star Wars. We were blessed with more information on both the themed hotel and the Galaxy's Edge.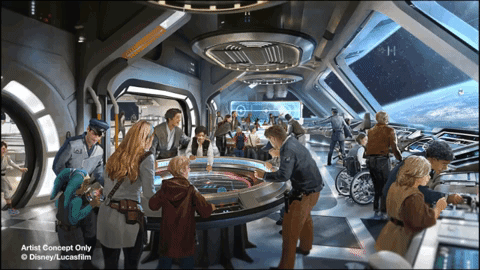 Oh. My. Gosh! 
Our family is so excited about these new attractions. We are stupid excited about them! Learning about the immersion story aspect of staying in the hotel made it even more exciting. And then Galaxy's Edge with life sized X-wing fighters and a life-size Millennium Falcon. Again, did you all hear that? A life-size Millenium Falcon! I will just stand by it and scream excitedly, maybe cry, and definitely embarrass my kids. It will be great! We are already talking about and planning our trip for after Galaxy's Edge opens, and we are so excited to have more information to add to our planning.
So, what are you the most excited about in the new Disney update?
#galaxyedge #disneyland #WaltDIsneyWorld #disney #cousinswhodisney #D23 #pixarpier #D23Japan #starwars #disneylandparis